Gangtok- Capital City of Sikkim:
Gangtok- the capital city of Sikkim, is one of India's most attractive hill destinations, being incredibly appealing, refreshingly lively, and cloud-wrapped. The city, which is at a height of 1650 meters above sea level, offers amazing views of Mt. Kanchenjunga on clear days. Gangtok is in East Sikkim. It is without a doubt one of the most picturesque hill stations in the country. Gangtok is a living and active slice of northeast beauty, with just the perfect mix of everything from a fusion of ethnic identities to urbanization.
Sikkim arose as a sovereign state against the backdrop of Tibetan and Bhutanese assaults, during which time the kingdom had varied degrees of freedom. Sikkim was an autonomous country until 1975, when it united with India following a decisive poll.
During the peak season, temperatures range between 11-24°C. This takes place between March and April. With bright sky and weather allowing you to see the snow-covered mountains, this time of year is ideal for sightseeing and adventure sports.
Sikkim is a unique mix of many cultures' customs, religions, and traditions. Sikkim has been occupied by three tribes from ancient times: the Lepchas, the Bhutias, and the Nepalese. Even now, they continue to shape the people's community and culture in Sikkim.
MG Road, Gangtok's major street, is a fantastic spot to hang out during the day and a main market area. Festivals are an important aspect of Gangtok's culture and heritage because it is the capital city of Sikkim. Popular celebratrions of Gangtok includes Saga Dawa, Phang Lhabsol, Dashain, Flower Festival, Gangtok- the capital city of Sikkim Food and Culture Festival, Diwali, Losar, and Makar Sankranti.
Gangtok has an aura of mystique, with its twinkling and starry lights as dusk comes to dawn.The charm of this small hamlet is only amplified by abundant rainfalls and hazy mornings. Gangtok is a popular destination for hikers and campers heading to the Himalayan mountain ranges. People have begun to visit the North-Eastern states in search of thrills, adventure, serenity, and other things. Gangtok Tourism is significant for the Northeast area because of its natural beauty, cuisines, gastronomy, and cultural variety.
How to Reach Gangtok Capital City of Sikkim:
By Air
The nearest airport to Gangtok is Bagdogra Airport, West Bengal. Bagdogra and Gangtok- the capital city of Sikkim are approximately 124 km apart. One can also use the Sikkim Tourism Development Corporation's helicopter services, which fly daily from Bagdogra to Gangtok and take around 20 minutes to reach.
By Rail
The nearest railways are at New Jalpaiguri, which is 117 km away from Gangtok. The railway station is well connected to both big and minor cities in the nation. One can hire private taxis from here.
By Road
Gangtok is well connected by road to Siliguri, Darjeeling, and Kalimpong through National Highway 31A. There are several frequent Sikkim state transport buses that run between Gangtok and Siliguri. Private buses, jeeps, and taxis are also available from Siliguri and Bagdogra.
Places to visit in Gangtok
Nathu La, one of the world's highest motorable routes over a mountain pass in the Himalayan ranges. It is 56 km from Gangtok- the capital city of Sikkim and 14450 feet above sea level on the Indo-Tibetan border. Nathu La Pass, located on the Old Silk Route, connects Sikkim to China's Tibet Autonomous Region. Only Indian nationals are granted a valid permission to access Nathu La Pass. The permission is obtained by submitting an application to the Tourism and Civil Aviation Department. This is possible with the assistance of a licensed travel agent.
Baba Mandir is a shrine established near Harbhajan Singh's Samadhi, located 64 km from Nathu La and Jelepla Pass at an elevation of 4000 m. The old one was constructed on the location of the bunker where Baba Harbhajan served in the Indian Army. The new one was erected in close proximity to Changu Lake. Though the temple is located on the side of a road, it is surrounded by stunning mountains, providing travelers with a spectacular sight.
It is locally known as the Changu Lake. Tsomgo Lake in East Sikkim is the most visited lake in Sikkim. Tsomgo Lake, located 35 km from Gangtok- the capital city of Sikkim and at an elevation of 12,000 feet, is a must-see for any visitor. The lake is surrounded by high and rough mountain terrain and is covered with snow from early winter until late April. Tsomgo, associated with several tales and mythology, is treasured as a sacred lake by the people of Sikkim. The lake location also offers a variety of food stalls providing snacks and beverages, as well as rides on colorfully adorned yaks and mules.
Gonjang Monastery is around km far from the city of Gangtok. It is located at an elevation of 6066 feet. Monastic education, Tibetan language, and English are all taught to monk pupils here. The monastery educates its students via close and comparative study of Indian and Tibetan Buddhist philosophy focused on moral ideals. The Dalai Lama blessed the monastery, and its proximity to Gangtok makes it a popular destination for those looking to visit a monastery close to town.
Bakthang is a beautiful waterfall on the North Sikkim Highway in Gangtok, about 5 km from the Gangtok SNT Bus Station. It is one of the most beautiful spots to visit in Gangtok and one of the most popular waterfalls in Gangtok, located near Tashi View Point. A tranquil waterfall runs down the rock, creating a tiny pool below. It is situated on the 31A National Highway, which connects to North Sikkim. Some adventurers can even try rappelling down the cliff on a fixed rope, which is organized by the area's tourist committee.
Lhasa Falls is 1 km from Tashi Point, one of Gangtok's most popular tourist attractions in Sikkim. Lhasa Falls is a tiny waterfall that runs down the mountain and may be seen on the side of the road when travelling from Tashi View Point. There are large rocks which visitors generally climb in order to take beautiful shots and enjoy the environment. It is a must-see attraction for anybody travelling with family or friends.
Rumtek Monastery is a wonderful Tibetan Buddhist monastery located 24 km from Gangtok. It was constructed to aid in the spreading of Buddha's teachings throughout the world. The Dharma Chakra Centre monastery is surrounded by verdant, quiet, and serene hills. After Dharamshala and Tawang, it is one of India's most respected monasteries. Monks assemble at the Rumtek Monastery's courtyard. The Sanctum within it houses the Golden Stupa as well as portraits and sculptures of Lord Buddha.
Tashi Viewpoint, located 8 km from centre Gangtok, is a beautiful wonder from where visitors may obtain a glimpse of the spectacular Mount Sinilochu and Mount Kanchenjunga. Tashi Namgyal, the ruler of Sikkim from 1914 until 1963, erected it, and it is named after him. Tashi Viewpoint is located in an ideal location and offers a stunning view of the snow-capped Himalayas. You may also enjoy breathtaking views of Labrang Monastery and Phodong Monastery, both of which are located close the Tashi View Point.
Kupup Lake, a high-altitude lake shaped like an elephant, is one of Gangtok's highlights and a Silk Route stop. It is also known as the Elephant Lake and is located at a height of 13,066 feet on the way to the Jelep la Pass, which connects India and China. The right side of the lake resembles an elephant's trunk, while the left mimics the animal's tail. Locals refer to the lake as Bitan Cho. A beautiful valley surrounds the lake, and the little settlement of Kupup is the closest feature to the lake.
Ganesh Tok is a tiny Ganesh Temple located 7 km from Gangtok at an elevation of 6500 metres. A panoramic view of Gangtok, the Raj Bhavan complex, and Mount Kanchenjunga can be viewed from here, and it is a stunning sight. Ganesh Tok is surrounded by hills, terrain, and stunning mountains. It is so congested that worshippers are forced to worship Lord Ganesha on all fours. However, the temple (dedicated to Lord Ganesh) is so small that it can only accommodate one person at a time. With its exotic surroundings and soothing atmosphere, the exquisite location brings you closer to nature.
Namgyal Institute of Tibetology
Namgyal Institute of Tibetology is a significant Tibetan institute dedicated to the promotion and advancement of Tibetan language, art, religion, and culture. Its structure has traditional Tibetan architecture set among lush greenery, making it a spectacular sight for tourists.  The Tibetan library on the first level houses one of the world's greatest collections of Tibetan documents and literature. On the ground level, there is a museum with a rare collection of sculptures, coins, masks, thangkas, Tibetan art work & items, and antique texts donated by renowned monks and monarchs.
Gangtok Ropeway offers a stunning bird's eye view of the valley below and is regarded as one of the most fascinating things to do in Gangtok. The twin cable zig zag ropeway, which opened in 2003, can carry up to 24 passengers and spans a distance of 2 km back and forth. The ropeway's starting location is Deorali Bazar, which is located in the middle of the city and is easily accessible to most people. It was built in 2003 and links to the Tashiling Secretariat via the Sikkim Legislative Assembly.
Trulshik Rinpoche, a disciple of the 14th Dalai Lama, erected the Do Drul Chorten, a massive stupa near Gangtok, in 1946. The stupa is surrounded by 108 prayer wheels with sacred mantras inscribed on them. Inside, some precious religious Kangyur writings and artifacts related with Dorje Phurba have been meticulously preserved. Do Drul Chorten is home to a dharma preaching centre founded by Dodhrubchen Rinpoche. Chorten Lakhang, which houses two massive sculptures of Guru Padmasambhava, surrounds the stupa. This is a charming small spot for anyone looking for peace and quiet among the hills.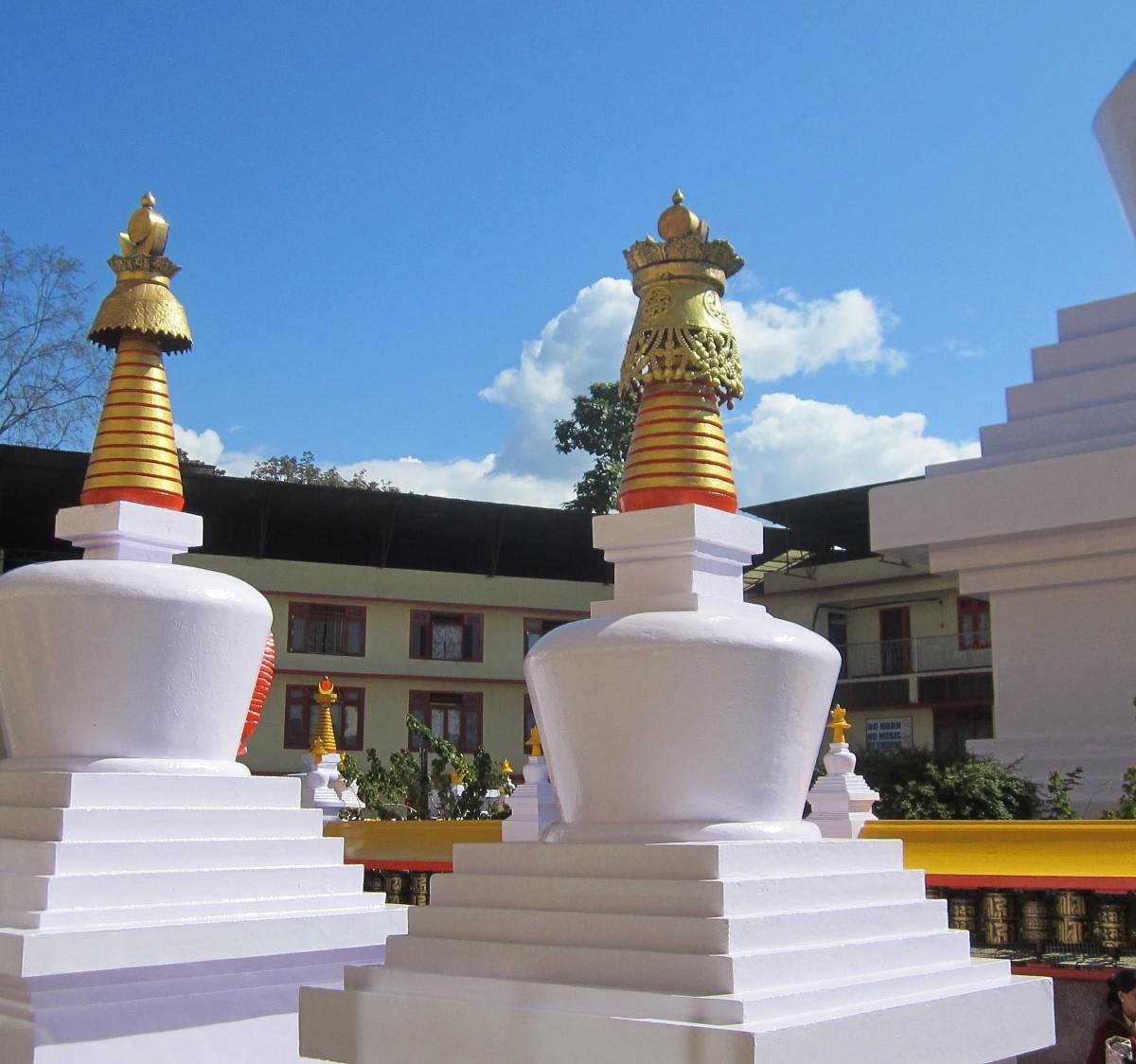 Himalayan Zoological Park
Himalayan Zoological Park, Sikkim's first zoo, allows visitors to learn about the region's biodiversity. The zoo, which is home to Snow Leopards, Himalayan Palm Civets, Red Pandas, and Himalayan Black Bears, is unlike others in the country. Animals are maintained in open enclosures in natural habitats rather than cages, making the entire experience more enjoyable. The zoo, which is located at an elevation of 1,780 metres, also provides spectacular views of Mount Kanchenjunga.
The Flower Exhibition Center is a short walk from MG Road and features a wide range of flowers from all across Sikkim. The exposition centre is a haven for nature enthusiasts all year, mainly during the annual flower show, which takes place from April to May. The exhibition centre, which is home to many rare and uncommon plant species, provides a nice diversion from the hustle-bustle of the busy town.
Gangtok is a living and vibrant piece of northeast beauty, with just the perfect mix of everything from a fusion of ethnic identities to urbanization. With a plethora of tourist activities and attractions, your Gangtok vacation will provide a whole bundle of energy and enjoyment.