For What Guntur is famous for
We need to know for what Guntur is famous for-Guntur is a city in the Andhra Pradesh state of India, around 60 kilometres from the Bay of Bengal. The city is located on the southeastern outskirts of Hyderabad, the state capital of both Telangana and Seemandhra, and is approximately 266 kilometres away. Guntur's city borders were increased in 2012 to encompass eleven towns on the outskirts.
Guntur District lies on the east coast of the Bay of Bengal in Andhra Pradesh. The district features a 100-kilometre-long coastline. Guntur city is the district's major city and administrative centre. The ancient city of Guntur is home to a plethora of mediaeval temples, caverns, and forts that will transport you back in time. It is the state's third most populated city and second biggest in terms of area. It is a significant educational, commercial, and agricultural hub.
The Kollur Mine in the Guntur area is one of the world's most important diamond mines. This is where the legendary Kohinoor diamond was discovered.
Guntur is a well-known town in Andhra Pradesh that is well-known for its chilli growers. They are the primary producers of many chilli kinds that are shipped to Canada, Europe, and Asia. The Red Chilli Biriyani is the popular dish of this place. It experiences hot and humid summers but the winters are quite pleasant. The best time to visit is in the months between October and March.
The area is not only blessed with a rich literary, artistic, and cultural legacy, but it is also an essence of tourism. The rich atmosphere causes everyone to feel a flow of energy travel through them, and the attraction of the tourist places mesmerises us, and our hearts cannot help but walk with the beauty of them.
How to Reach Guntur to know for what Guntur is famous for
By Air
Gannavaram Airport is the nearest airport. It is 17.9 kilometres away from the city of Vijayawada. It is 35 kilometres down the Guntur road from there. From Vijayawada to Guntur, taxis and buses are available.
By Rail
Trains run between Vijayawada Railway Station and Guntur Railway Station. Guntur is around 35 kilometres away and can be accessed by train.
By Road
From Vijayawada to Guntur, buses and taxis are available.
Places to Visit in Guntur-Explained for what Gunur is famous for
Amaravathi
Amaravathi is a holy site and one of Guntur's most popular tourist destinations. The Mahachaitya Stupa, erected in the second century, is claimed to have gotten its name from the Amareswara Swamy temple. Amaravathy is a historic town of great importance.
In ancient times, it served as the capital of the Satvahana monarchy. It's also a historically significant Buddhist site. Every day, hundreds of people flock to the Mahachaitya Stupa. Under the HRIDAY plan, the Indian government has taken over the Heritage site for preservation and construction.
Kondaveedu is a town around 17 miles from Guntur that is home to one of the region's most prominent tourist attractions. It is home to an old fort erected by Reddy rulers in the 13th century, which consists of 21 spectacular monuments.
The Kondaveedu fort, perched on a hill, is awe-inspiring, especially given the natural splendour that surrounds it. The area also has an excellent trekking track. A collection of temples at the foot of the mountain is an enthralling sight. Two of the numerous temples in the vicinity are Kathulabave and Gopunatha Temple.
Also read Places to visit in Vishakapatnam
Nagarjuna Sagar Dam-Guntur is famous for this dam
Nagarjuna Sagar Dam is one of the greatest dams erected in recent times in Asia, and it is a wonderful sight when its gates are opened during prime flood season in Monsoon. Nagarjuna Sagar Dam is India's pride and joy as the world's highest masonry dam.
The majestic edifice is enhanced by a gorgeous setting and a remarkably picturesque water body. The power production turbines are located in the Nalgonda (Telangana) area. The dam takes its name from Nagarjunakonda, a neighbouring mountain and island where an ancient Buddhist Guru once resided. A well-known and well-maintained museum houses ancient relics here.
Ethipothala Waterfalls, located in the Nagarjuna Sagar district of Andhra Pradesh, is a 22-metre-high waterfall that cascades down steep hills and is surrounded by lush green flora, creating a dazzling view of nature. Ethipothala Waterfalls become a popular attraction for both local and foreign visitors in the state of Andhra Pradesh throughout the years.
The waterfall is an excellent location for light hiking and camping. This magnificent waterfall is formed by the confluence of three streams: Chandravanka Vagu, Nakkala Vagu, and Tummala Vagu. This is one of India's largest and most well-known dams, supplying water for agricultural use to the Prakasam, Nalgonda, and Guntur districts.
Suryalanka Beach, Bapatla
Suryalanka Beach is located in the Guntur District of Andhra Pradesh, 9 kilometres from Bapatla, 28 kilometres from Vodarevu Beach, 92 kilometres from Vijayawada, and 61 kilometres from Guntur. On weekends and holidays, it is also known as Bapatla Beach, and it attracts a huge number of people.
Suryalanka Beach is the ideal weekend getaway beach for friends and family. The natural beauty of the beach is a big appeal for tourists wishing to relax and recuperate. The beaches beachfront is broad and open. Suryalanka Beach views the Bay of Bengal's stunning blue waves. The sunrise is spectacular at this beach. Accommodation is available at the Haritha Beach Resort, which is managed by AP Tourism. A weekend stay should be booked in advance. Apart from this beach resort, Bapatla town offers a variety of low-cost hotels. This location is accessible by public buses and vehicles from Bapatla town. Bapatla town offers excellent train and transport connections to major Andhra Pradesh cities.
Bhavanarayanaswami Temple, Bapatla
The Bhavanarayanaswami Temple, situated 49 kilometres from Guntur in Bapatla, is one of the district's famous and oldest temples (1400 years old). Bhavanarayanaswami is the main deity of this temple, which is said to date back to the Mauryan period.
The temple, which is on the Madras-Calcutta Line, is well-served by train and bus lines. Bhavanarayana Swami, the temple's presiding deity, is the name of the town of Bapatla. The hamlet of Baptla was also known as Bhavapuri under the Mauryan Empire.
Chilara Beach- Guntur is famous for this beach.
Chirala town is also known as "Ksheerapuri," which means "Milk Town." It is located in the Andhra Pradesh district of Prakasam. Chirala has become a renowned tourist destination near Guntur due to its several beaches, the most well-known of which being Vadarevu Beach and Ramapuram Beach. The handloom business is also well-known in Chirla. The closest beach to Hyderabad is Vadarevu Beach in Chirala, and many folks from Hyderabad frequent the beaches in this area.
Vodarevu Beach is located on the Bay of Bengal coast, 8 kilometres from Chirala, 28 kilometres from Suryalanka Beach, 103 kilometres from Vijayawada, and 72 kilometres from Guntur. It is 6 kilometres from Ramapuram Beach in the Prakasam district.
Vodarevu Beach is a prominent and well-known beach in the Vijayawada area. The beach's quiet environment may make visitors lose track of time, and the stunning sunsets and sunrises further add to the beach's overall appeal. Adventure awaits at the Vodarevu Beach, which offers thrilling watersports, swimming, and fishing. Local boats are provided to make boating in the water more convenient. There is a nearby lighthouse that may be visited.
Mangalgiri
Mangalgiri is located between Guntur and Vijaywada and is largely known for its ancient Vaishnavite temples. They are maybe the oldest. The temple's Gali Gopuram structure is an 11-story-high structure and the main shrine there is known as Sri Lakshmi Narasimha Swamy. This temple was built between 1807 and 1809. Mangalgiri refers to a spiritually significant and auspicious hill. Lord Vishnu manifested himself in the area, and there are additional temples such as the Narsimha Swamy temple, the Panakala, and the Gandala Narasimha Swamy Temple.
Uppalapadu Nature Conservation
Uppalapadu is a village located 4 kilometres outside of Guntur. Many water tanks dot the area, providing a haven for a variety of species. This is a popular site for nature lovers.
At the village's entrance sits the Bird Center. The number of birds in these tanks is now believed to be around 7000. Many uncommon and unusual bird species may be seen here, some of which migrate from Siberia and other far-flung locations. Near the tanks, colourful birds such as Spot-Billed Pelicans and Painted Storks may be seen. Uppalapadu is a beautiful, tranquil location in the midst of nature.
Kotappakonda Trikutaparvattam
Originally known as Kondakavuru, this location is now known as Kotappakonda or Trikutaparvattam, which refers to a neighbouring three-peaked hill. It is around 25 kilometres from Guntur and gives a spectacular view of gorgeous hills in all directions.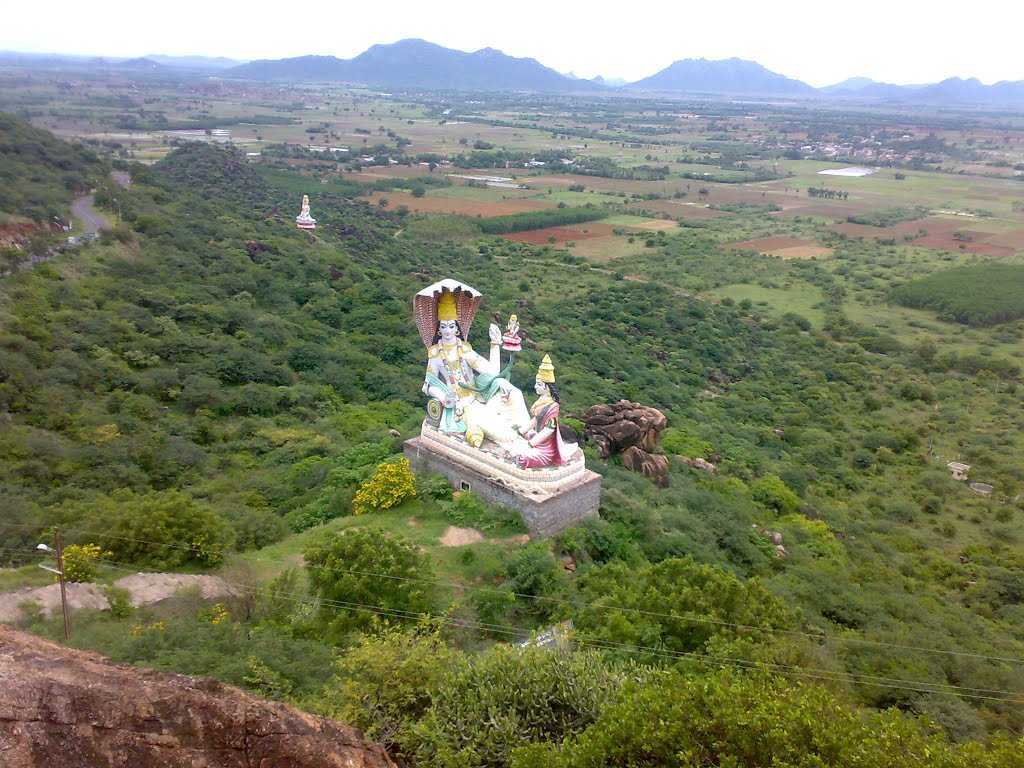 Vishnu, Brahma, and Maheswara are the names of three famous peaks in Hindu mythology. Another interesting area to visit is Guthikonda Cave, which is a fascinating place to explore. Another notable tourist attraction is the Someswara Swamy Temple, which is located 16 miles north of the city of Sitanagaram.
Travellers may visit Guntur in Andhra Pradesh for a once-in-a-lifetime experience. You will be amazed by the exceptional scenery and beautiful vistas of prominent spots to visit in Andhra Pradesh like Guntur.