Mini Switzerland of India in Uttarakhand -Chopta
Welcome to this blog on the mini Switzerland of India in Uttarakhand. I always keep on thinking that why people generally have a dream location in a foreign country. But they can actually experience more beautiful sights here in India itself. These places are generally secluded and lesser-explored but no less than any abroad paradise. India is a gem when it comes to heritage and natural wonders. One such wonder is the Mini Switzerland of India in Uttarakhand, i.e. Chopta.
Chopta, the mini Switzerland of India in Uttarakhand, is a lovely village that is still undiscovered by tourists. It is at an approximate altitude of 2,608 m and is a slice of paradise tucked away in the Garhwal Himalayas. The morning vista from Chopta is energising as the crimson rays of the sun kiss the snow-laden Himalayas. This is a long cry from the booming horns of the towns and other hill stations. Pines, deodars, rhododendrons, and other conifers that can be found in this region surround this quiet retreat, making Chopta rich in nature.
Chopta is a year-round vacation spot: delightful in the summer, refreshing in the monsoon, and a snow-covered wonderland in the winter. The Panch Kedar – the state's five most holy Shiva temples – is centred at Chopta. The temples of Kedarnath and Madmaheshwar are on the left, Rudranath and Kalpeshwar are on the right, and the Tungnath temple is directly above it.
Read more: My Trip to Haridwar and Rishikesh
Chopta has been declared an important bird-watching site by national and international conservation and biodiversity organisations.
How to Reach:
Jolly Grant Airport of Dehradun is the nearest airport to Chopta situated at a distance of 221kms. Chopta is well connected by motorable roads with Jolly Grant Airport. Taxis are available from Jolly Grant Airport to Chopta.
The nearest railway station to Chopta is the Yog Nagri Rishikesh railway station. Rishikesh railway station is situated 202kms before Chopta on NH58.
Chopta is well connected to Uttrakhand's major locations by motorable roadways. From ISBT Kashmiri Gate, buses to Rishikesh and Srinagar are available. Buses and taxis are readily available from major Uttarakhand locations such as Rishikesh, Pauri, Uttarkashi, Rudraprayag, Gaurikund, Srinagar, Gopeshwar, and others to Chopta. Chopta is on the road that connects Guptkashi and Gopeshwar.
Things to Do In Chopta- the mini Switzerland of India in Uttarakhand
That was my primary reason to visit Chopta. Tungnath has in store the world's highest Shiva Shrine and people around the world come here for the Tungnath-Chandrashila trek. Tungnath Temple, set at an altitude of 3680 metres among the magnificent mountains of Tungnath in the Rudraprayag District, is the world's highest Shiva temple. It is one of the Panch Kedars and is thought to date back over 1000 years. Arjuna, the third Pandava brother, was the one who built the foundation for this temple.
This hiking trail is approximately 3.5 kilometres long. The Tungnath summit, at 3680 metres, can be reached by trekking along a well-paved path. There are only a few high climbs or sharp curves on this trail. The entire Chopta – Tungnath – Chandrashila trail is approximately 5 km long.
Chandrashila peak is the highest peak in the Chopta region. It literally translates as "Moon Rock." It is at a height of approximately 3,690 metres above sea level. The Himalayas, including Nandadevi, Trisul, Kedar Peak, Bandarpunch, and Chaukhamba peaks, may be seen from this vantage point. This location has a number of legends associated with it.
Tungnath Chandrashila trek becomes snow cladded during the months of December and January but if you want to trek in greenery. August to October is the best time to visit as it is greenery everywhere.
Know more: Offbeat things to do in north Goa
It's a beautiful spot to visit, especially for adventurers, as they'll have a joy trekking to the temple. It is a wonderful blend of spirituality, beauty, and peace, making it a sure-fire and ideal vacation spot for all visitors.
Deoria Tal, located 3 kilometres from Sari hamlet on the Ukhimath – Chopta route, is the most popular tourist attraction due to its breathtaking vista. It is surrounded by cool, calm, and dense woods, which appeals to a wide range of people.
The lake is located at the base of the silvery Chaukhamba peaks and offers a glimpse of the Neelkantha, Yellow Tooth, and Kedar peaks, which appear to be shining jewels from the Deoria Tal, rejuvenating visitors. It's also a fantastic place to go bird viewing. Visiting this amazing place will surely make you believe that Chopta is indeed the mini Switzerland of India in Uttarakhand.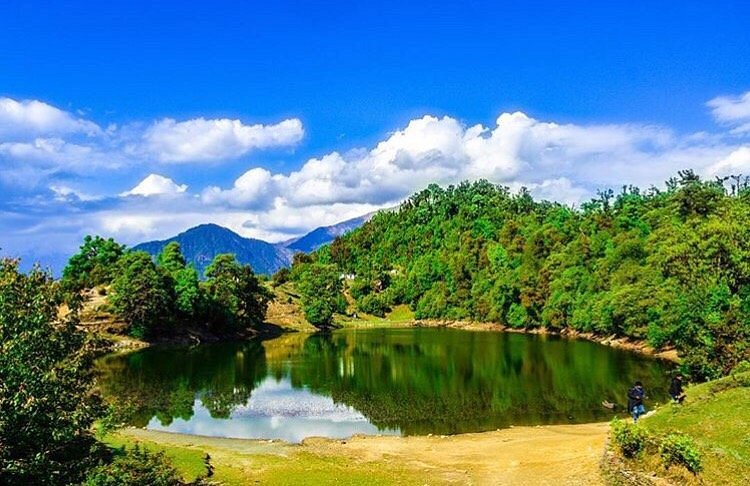 On the Deoriatal trekking trail, the breathtaking green forest is the main attraction. The two main attractions that make it a perfect site to come are bird watching and an adrenaline journey. Camping and village tourism are also popular activities in this area. The charm and the beauty of the nature of this popular place in Uttarakhand allures a large number of trekkers throughout the year. People generally do camping here and is an attraction for camp lovers.
It is known as winter Kedarnath because it houses Lord Shiva when Kedarnath is closed during the winter. You can also see the entire Himalayas from here. This holy temple attracts a large number of devotees. Ukhimath is located at an elevation of 1300 metres. Because of the scenic beauty of the area, it attracts a large number of visitors all year. In the midst of spirituality, you can find solidarity. Ukhimath is a small market/town located near the Chopta.
It is the last place on the Rudprayrag-Augustmuni side of Chopta where tourists can find shops to buy clothes/groceries/medicines, hospitals, ATMs, banks, and other necessities. There is no direct bus service from Ukhimath to Chopta. You can get a taxi to reach Chopta from Ukhimath.
The Temple is closed during the winter due to heavy snowfall, and no one stays in Kedarnath. The Palki of Lord Kedarnath is transferred to a place near Guptakashi called Ukhimath for six months (November to April) before being reinstated at Kedarnath in the month of May. It is at this time that the temple's doors are opened to pilgrims from all over India who have come for a holy pilgrimage.
Read more: Best Offbeat places near Guwahati
Distance between Rudraprayag to Chopta by Road is 24 Kms. The famous town of Rudraprayag is named after Lord Shiva's Rudra avatar. The emerald lakes, glaciers, foaming rivers, and silver streams encircle this heavenly town.
Rudraprayag, 34 kilometres from Srinagar, is a pristine town nestled on the holy confluence of the Alaknanda and Mandakini rivers (Garhwal). It is located at an elevation of 895 metres (2,936 feet) above sea level.
Rudraprayag is one of the Panch Prayag, or five Alaknanda River confluences. Rudraprayag is endowed with nature's bounty, the climate of which is determined by the region's elevation.
The town of Devaprayag, located at the confluence of the Alaknanda and the Bhagirathi rivers. It is located at an elevation of 472 metres on the metalled road that connects Rishikesh to Badrinath and is approximately 87 kilometres from Narendra Nagar. The town serves as the administrative centre for the tehsil of the same name and is one of Alaknanda's five sacred prayags or sangam (confluences).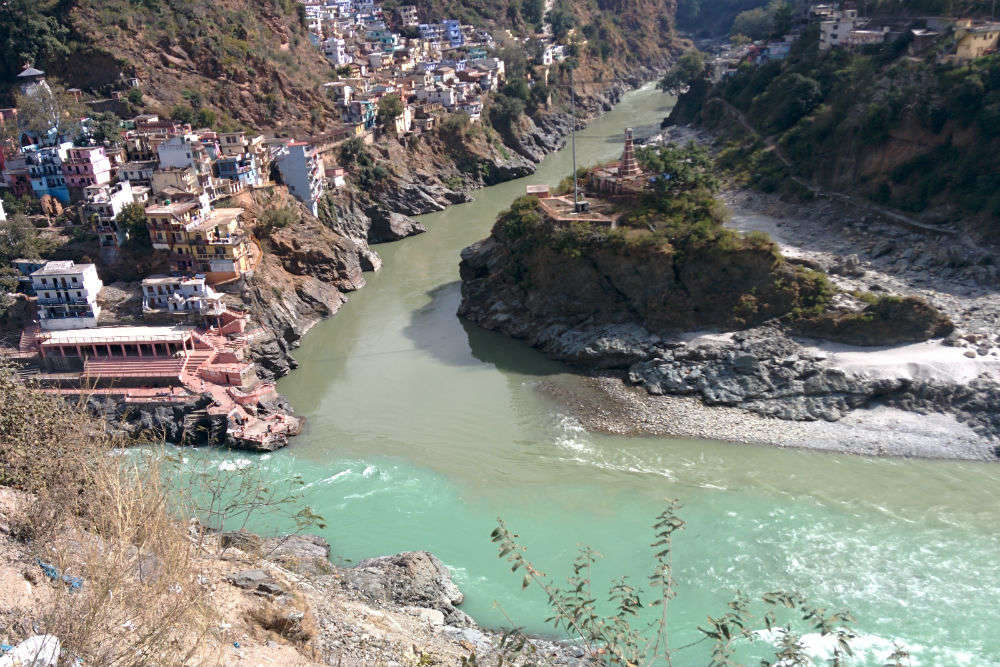 The birth of Ganga begins here, following the confluence of two rivers named Bhagirathi and Alaknanda. Bhagirthi originates in Gangotri, while Alaknanda originates in the glaciers of Satopanth and Bhagirath Kharak.
Know more: Best Time To Visit in Goa
Gopeshwar, the seat of Uttarakhand's Chamoli district, is situated at a height of 1300 metres above sea level. It is well-known for its temples and natural beauty, which is accentuated by the pleasant weather. Some people associate the name Gopeshwar with Lord Krishna. It is one of the most prominent towns in Uttarakhand's Garhwal area.
The town also has an encroachment of lush Oak woodland and steep Himalayan Peaks, which add to its attraction and beauty for nature enthusiasts. This tourism location in Uttarakhand is suitable for education as well as a significant base for visiting numerous religious sites and naturally gorgeous destinations throughout the state.
Kanchula Korak Musk Deer Sanctuary
Kanchula Korak Musk Deer Sanctuary, about 7 kilometres from Chopta, offers a tranquil setting for anyone seeking to spend time in nature and learn about Himalayan animals.
The sanctuary is surrounded by deep forests, so you'll be surrounded by greenery. Musk deers and other Himalayan species can be seen in the sanctuary. It is located within the renowned Kedarnath Wildlife Sanctuary. Tourists can see rare Himalayan fauna and birds in this ideal location. Simply continue driving this path and you will witness several rare birds such as the Monal or Kalige pleasant.
Devotees worship Lord Shiva's stomach, which is also known as Madmaheshawar. This is one of the most popular tourist destinations around Chopta. It sits at a height of 3200 metres above sea level. The temple is bordered on one side by the snow-capped Himalayas and on the other by alpine green meadows. From this temple, you can see the Neelkanth and Kedarnath peaks.
Thus, Chopta is truly a Mini Switzerland of India in Uttarakhand ,and indeed one of the most prestigious glory of our mother earth. Evergreen forests and meadows lend this place a surreal feel.